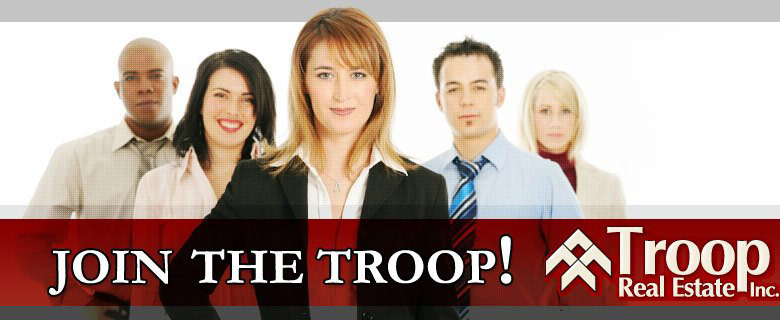 REAL ESTATE CAREERS
TROOP REAL ESTATE, INC. has developed a stellar reputation throughout Southern California for constancy, integrity and success. BRIAN TROOP launched the company in 1987 and has maintained superior service, unsurpassed professionalism and critical accountability.
AN INVITATION
My goal is to gather and grow a team of independent, career-driven, client-considerate and community-building individuals. My team is Troop's foundation. Their integrity, energy and drive are unwavering. If you possess these qualities and want to explore career opportunities with the area's largest independent real estate company, Troop wants to lead you through the journey to find the right path for you. The real estate market is regenerating. Interest rates are historically low and prices are beyond bargains. We are seeking individuals to help clients take advantage of this opportunistic market.

- Brian Troop
TROOP REAL ESTATE, INC is seeking career minded individuals who are willing to work hard, be trained and love servicing people and their community. The Real Estate Market is heating up with buyers and sellers! Interest rates and home prices are at record lows! Positions are available to professionals seeking a NEW CAREER in the dynamic industry, reigniting a previous career to a company with more to offer! We have more training, more benefits and a better reputation throughout Southern California.
Whether you are a seasoned real estate professional or newly licensed, we have the tools, training and technology you need to build and maintain a solid real estate business. Take a look at what we provide to Troop Associates! Go to TroopUniversity.com

If you have ever considered an exciting and challenging career in a rejuvenating and dynamic industry OR if you are investigating a possible office change, TROOP REAL ESTATE, INC wants to meet and get to know you! TROOP REAL ESTATE, INC offers a wonderful tuition reimbursement program in addition to an effective post-license training system that will help you launch a career directed toward success!